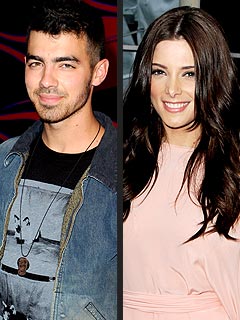 Jason Merritt/Getty; Kevin Winter/Getty
? That could have been awkward!
Joe Jonas
just
missed ex
Ashley Greene
while arriving at the vaudeville show
Beacher's Madhouse
inside the
Hollywood Roosevelt Hotel
. The singer showed up around 1 a.m., just a few minutes after Greene's departure, and seemed more focused on his entourage than the actual show, which he
caught the week before
. Greene, meanwhile, sat atop the banquette watching the on-stage shenanigans ? which includes dancing Oompa Loompas, live monkeys, goats, and exotic burlesque dancers ? as
her rumored beau
Chris Evans
sat nearby.
? Also at the Beacher's Madhouse show: its producer David Arquette, who handed out red licorice to guests as they arrived. Clad in a tuxedo, the actor also danced atop a banquette with people dressed in bear and bunny costumes, then moved on stage to dance more. He also chugged Red Bull all night long. Nearby, a newly single Leonardo DiCaprio was having a low-key guys' night out with pals Emile Hirsch and Lukas Haas.
? No hard feelings, apparently, for Kim Kardashian toward singer Prince after he ushered her off the stage recently at New York's Madison Square Garden due to her lack of dancing skills. On Wednesday night, Kardashian turned up in the VIP balcony at Prince's surprise last-minute show at the intimate Troubadour club in West Hollywood. She still didn't dance, but she did sway a bit to the music in between sending texts and a Twitpic of Prince with the caption, "Nothing compares."
? Bruce Springsteen sported a necktie at the U.K.'s Royal Windsor Horse Show while watching his daughter, Jessica, compete. Earlier, the rocker lunched at the members' restaurant and also posed for photos with his daughter. Will they join Queen Elizabeth ? who always watches her horse race ? in the royal box over the weekend?
? By MIKE FLEEMAN, JENNIFER GARCIA and SIMON PERRY
'); var targetVideoWidth = 466; brightcove.createExperiences(); /* iPhone, iPad, iPod */ if ((navigator.userAgent.match('iPhone')) || (navigator.userAgent.match('iPad')) || (navigator.userAgent.match('iPod')) || (location.search.indexOf('ipad=true') > -1)) { document.write('
Source: http://feeds.people.com/~r/people/headlines/~3/hlGzQkSUiI4/0,,20489159,00.html